This Sunday might be the busiest community outreach day to date for Prairie Spruce community members. You'll have 4 opportunities to interact with community members this weekend:
Dave, Faye and Jean will be doing a presentation at the Regina Unitarian Fellowship @ 10:30am
Dave & Lois will be at the 50+ Celebrate Showcase & Tradeshow.
Myself (Ruth) and André will be leading a Jane's Walk
And of course, we'll have some folks at the Information Centre in case anyone drops in too.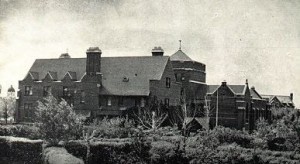 But this blog post is about our Jane's walk in Canterbury Park…
Prairie Spruce Commons will settle into a place recently re-imagined and re-developed.
The location (land) on which Prairie Spruce Commons will be built has been home to many people and communities before us.  All on Treaty Four Territory.
Now an emerging medley of retails and residential, this neighbourhood of just under 8 acres was once the Property of the Anglican Diocese of Qu'Appelle, and for a while hosted a large community garden project of Grow Regina.
This is a neighbourhood in the heart of the city where it will be possible to rely on bicycles, car-share and pedestrian modes including strollers, walkers and wheelchairs too.
The newly built retail and residential developments are integrated into the history of this place. The Bishop's Court, St. Chad's College, Anson House (the official residence of the secretary of the Anglican Diocese of Qu'Appelle), St. Cuthbert's House, and Harding House are each designed in the Collegiate Gothic style.
The entire site and its five original buildings are Provincial Heritage Property and have received Heritage Awards in the Exterior Renovation category. 
The land on which Prairie Spruce Commons will be built, it seems, has never before had built structures on it but from 1994 to 1998 was part of an extensive Community Gardens project of Grow Regina. 
Prairie Spruce Commons now has a compelling opportunity to plant and grow community in the heart of the city.
Come and join André and me for a Jane's Walk of our neighbourhood on Sunday, May 3rd from 1:30 to 2:30 p.m.  We will meet at the PSC Information Centre (it's the little building with flags on it).
Ruth