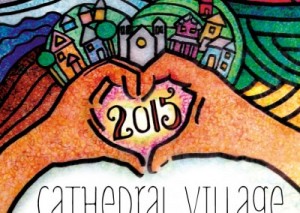 The Cathedral Arts Festival (CAF) always winds up with a fantastic street fair. This year was no exception. There were over 300 vendors that lined the streets in the Cathedral neighbourhood. There were food vendors, artists, buskers, and of course Prairie Spruce Commons.
Our booth was hopping from 10:00am on. Over the course of the day, we gave out over 600 slushies! As was the case last year, Nature's Best Market provided the supplies and the blender bike, while Erik provided the power. Based on his work this year, Erik's job description has been upgraded from Blender Boy to Mixer Man.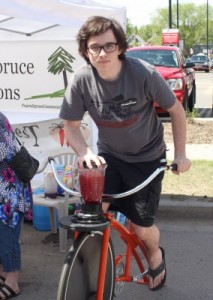 One great thing about our cohousing community is the way we work together. Suzanne came up with the idea to make pinwheels to give away. Erik upgraded the design by solving a design flaw: our original pinwheel with a straight pin sticking out of it needed a bit more design. I added some graphics promoting Prairie Spruce and Warren helped assemble them. Cohousing is working together.
Another great thing about cohousing community is our members' willingness to share their skills. One of my many skills (some would say quirks) is balloon twisting. I'm not great but I can make a mean flower and – ok I'm just good at one flower. But I can do a passable dog or sword. I am now mentoring both Murray and Dave in the fine art of balloon blowing. By the end of the day, they were awesome at burping balloons – yes, that really is the technical term.  Cohousing is mentoring.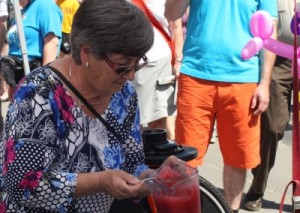 A third great thing about our cohousing community is the acknowledgment that we all have different gifts. Eva volunteered to help at CAF, but she was a bit concerned about how she'd be able to contribute. It was soon clear that Eva was an important part of the booth team. Erik mixed the slushies on the blender bike. Eva portioned them out into cups. This freed up Suzanne to stand in front of the booth and hand out samples. Eva could then direct people back to the booth to talk to Murray, Lois, Dave, or Warren. Suzanne also kept an eye out for children in need of balloons which I made on request as the parents found out about cohousing. Cohousing is about supporting each other!
If we can have this much fun at a street fair, imagine what it will be like to live with us. Send us an email to find out how.
Joanne