"I keep a close watch on this heart of mine

I keep my eyes wide open all the time

I keep the ends out for the tie that binds

Because you're mine, I walk the line."

I Walk the Line, by Johnny Cash

That old song has been singing to me since our community walk~wheeled** the tape on the floor outlining some of the common spaces of Prairie Spruce Commons.
And what the heck does the third line of that song mean anyhow?  No clue here!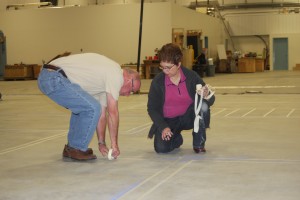 Warren and the Design Committee spent hours on their knees at the Prairie Arctic Trades Training Centre where we were lucky to be guests for the day.  The massive indoor arena with a smooth cement floor was perfect for marking out, with masking tape, the more than 2000 square feet of main floor common space.  Common kitchen and dining room, lounge, kids space, entrance (front and back), elevator, guest room, accessible bathroom, common laundry, office, workshop, storage closet, powder-room and yes hallways.
Prior to the much anticipated walk~wheel, the plan was that all 15 of us, or so,  would follow Warren into the 'taped-on-the-floor Common House,' and listen attentively while he oriented us to what was what. Are you kidding!?  Right off the mark we were like a herd of cats with all our curiosity, questions, and excitement.
Once we settled a little and even figured out which way was north we found that walk~wheeling a space adds new dimension to pouring over architectural drawings.  Like feeling a space and experiencing it and rubbing shoulders with the neighbours too. 
Current research in organizational theory says that the most successful and resilient organizations are those that solicit, welcome and integrate feedback. It's called the feedback loop.  Walk~wheeling the lines gave us opportunity to experience the feedback loop. Some things in the design seem perfect while others need some minor adjustments.
'because you're mine I (we) walk~wheel the line."
Hope you knees will be okay in a couple of days Design Committee.
Ruth
** My preferred language so as to acknowledge those among us who get around by wheeling in strollers or wheelchairs.