December 19, 2014 was another big step forward in bringing our cohousing project to Regina. Before dawn that day, the portable office we will use for our information centre arrived at the site! In about an hour the crew had the portable office unloaded and leveled.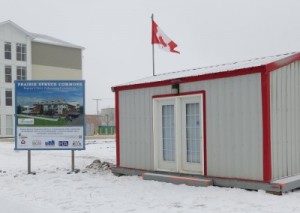 A couple of days after the arrival of the office, several members of our community met at the info centre to drop off furniture with which to warmly furnish the information centre. It was soon arranged to be a welcoming place to come have a tea and chat about the project when we open.
We have been patiently waiting for the power to be hooked up to the information centre so that we can have heat and light for our visitors. We expect this to happen in the next few days. As soon as power is provided, the information centre will be opening on Saturdays and Sundays from 1:00 pm to 4:00 pm. You can also request a special appointment by phoning (306)586-1363.
In the meantime and as caring members of the neighbourhood, we have been keeping the sidewalk clear of snow for the entire block in front of the information centre on Badham Boulevard. This will allow our future neighbours in the area to be able to walk on the sidewalk and enjoy the wonderful amenities in the neighbourhood easily and without fear of falling.
We'll be sure to update our webpage as soon as we officially open. We're looking forward to chatting with you!
Murray