In Transition 2.0, on Sunday January 18th in the Cathedral Neighborhood Centre. The optional community potluck starts at 5:30pm and the movie will start at 6:30pm, with open discussion to follow.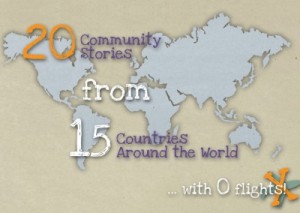 In Transition 2.0 is an inspirational movie about ordinary people doing extraordinary things. It is about how groups around the world gather to build community in response to challenges such as costly energy resources, financial instability and environmental change.
The movie was made by the Transition network, which is a British organization that has inspired thousands of initiatives around the world. The organization's mission is to inspire, encourage, connect, support and train communities as they self-organize to build community, local resilience and to foster a sustainable lifestyle.
You'll hear about communities printing their own money, growing food in every possible place, localizing their economies and saving local grocery stores from closing down. The movement is also about encouraging people to form local networks, for neighbors to get to know each other, and for people to take pride in their own neighbourhoods.
You can find more information and sign up for the event here:
https://www.facebook.com/events/782643585106257
It is not necessary to sign up in advance, but it is greatly appreciated!