Easter brought two special visitors to the Information Centre on Sunday.  Neither of the visitors was the Easter bunny with a wagon full of chocolate but we could not have been happier to meet Sarah and Tayrn from Global News – Regina.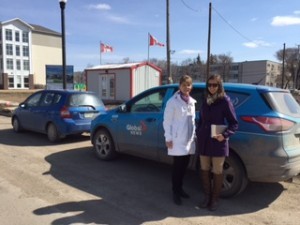 Their producer noticed Prairie Spruce Commons in a tweet, and suggested it for a story. Sarah, Global News Reporter, had certainly done her home work. She had reviewed Prairie Spruce Common's website and asked our members some insightful questions about cohousing. Tayrn, our Global News Camerawoman, worked the angles and lighting, taking lots of pictures inside and outside the Information Centre.
We were delighted that the two of them spent almost two hours gathering interviews and other shots. They promise the program will be put out sometime this week. If you miss it, the video will be available online at Global News – Regina, and we'll update this post with the link later this week.
Lois