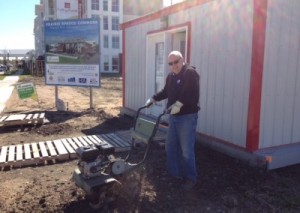 Prairie Spruce is a multigenerational cohousing community.  This usually means that the community of residents as a whole consists of children, adults and seniors. At Prairie Spruce, multigenerational cohousing takes on a somewhat unique flavour, albeit common within cohousing communities: we have different generations of the same family moving into their own private condo units within the community. Roger will be living there as well as his parents Dave and Lill. Murray is moving in, along with his sister Lois and mother, Loraine.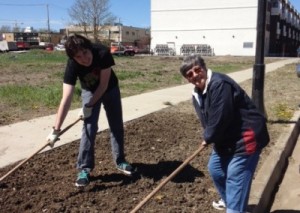 My family is the only one that will have three generations living in Prairie Spruce. Henning, my husband, and I will be moving in with our son, Erik. Henning's parents, Eva and Knud, will be moving in also. Before you think I am just the best daughter-in-law in the world, you should know three things. First, I am very lucky that I get along very well with my in-laws. They are very nice people. Second, they will be living on the first floor and we will be living on the second floor. Third, they will be looking after my dog part time as he likes to be outside in the summer and they just happen to have a terrace. We are all looking forward to the benefits of living separately within the same condo; living apart, together.
The three Mortensen generations spent some time last Monday morning working together at the Information Centre, roto-tilling the ground in preparation for planting potatoes and zucchini. We're looking forward to sharing the fruits (vegetables?) of our labour with the community, neighbours and our extended cohousing family.
Joanne