Winning Recipe in the Crumble Rumble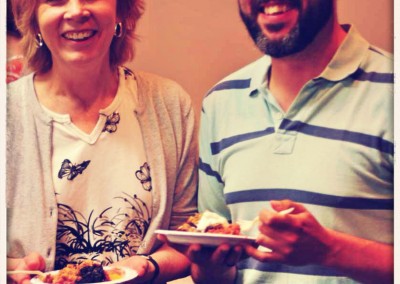 Our Creating Community: Let's Get Ready to Crumble event on Tuesday evening was a resounding hit. Our friends and guests sampled 4 delicious crumbles and the Haskap Berry Crumble created by Laurie Gillies took first place. Laurie credits the win to her mom, Vickie Gillies, "who makes the best crumbles, crisps and cobblers ever".We've posted the winning recipe below.
If you are like many of the taste testers, the Haskap berry may be new to you. While Haskaps are well known in Russia and Japan, they are quite new to Canada. They LOVE our prairie climate. The University of Saskatchewan have bred a hybrid of the Russian and Japanese plants that are very hardy in Saskatchewan.
It only seems appropriate that the Haskap Berry Crumble was the winner. Like cohousing, it is new to Saskatchewan and proving to be healthy, hardy, and delicious. You can go online to Haskap Canada at haskap.ca to find out where you can find them and how to purchase seedlings and grow your own. In Regina, Laurie and Jim carry the berries at Nature's Best. Laurie's brother-in-law and sister-in-law grow Haskap on their farm, Heavenly Blue Honeysuckle Orchards near Birch Hills, just south of Prince Albert.
Here is Laurie's Winning Recipe
Haskap Berry Crumble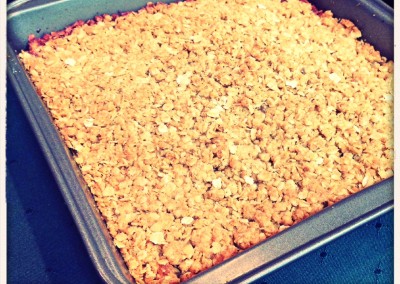 Filling
8 cups of Haskap berries (drained, see below)
1/2 cup sugar
teaspoon of lemon juice
2 TB cornstarch
Topping
1 cup flour
1/2 cup brown sugar
1 cup oats
1 teaspoon baking powder
1/4 teaspoon salt
1 teaspoon each of cinnamon and ginger
8 TB butter
Baking
Heat oven to 350. Mix up the filling. Adjust ingredients to your taste. Put in a glass or ceramic baking dish. Mix up the topping and crumble it over the filling.Bake about half an hour.
Laurie's Tips
Haskaps are one of the world's SuperFruits and this one is super juicy! So drain the Haskap berries before you add them to the recipe. I set them in a strainer over a bowl and weighted it down for a few hours. I took one and a half litres of juice out of my berries before I baked and they still had amazing flavor and nutrition. Drink the juice, or freeze it into ice cubes to add to smoothies, homemade ice cream treats, or your glass of water. Yum!