Or Spiders, Spiders, Everywhere…
I grew up on a farm.  Bugs didn't bother me*. I ate a lot of dirt as a child.
I remember being very confused, in elementary school, as my friend freaked out because there was a moth on the steps in front of us. "What's the big deal?  It's just a moth.", I thought.
Karma has such a sense of humour.
Fast forward 20 years, I'm on my honeymoon. We are staying at my husband's grandparents' house. We have the upstairs bedroom with a balcony that looks out on the harbour.
How beautiful… How romantic…
Until it's time for bed,  and I realize that there spiders all over the room. Mormor (grandma) and Morfar (grandpa) had opened the doors to the balcony to air out the room for us and the spiders had moved in.
There were millions of spiders… ok maybe not millions, but a lot. I just remember sitting in the middle of the bed crying hysterically, as my darling, and somewhat surprised, husband tried to explain to his grandma why his new wife was freaking out. Mormor simply got out the broom and dustpan and swept the walls and ceiling for me. I loved her from that point onward.
Today, I surrounded myself with 137 spiders.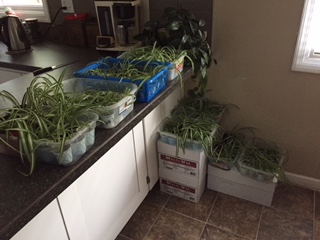 No, I'm not in therapy.
I was getting ready for Prairie Spruce's return to the Regina Farmers' Market on Saturday, June 30. I planted 137 spider plants that we will be giving away at the Farmers' Markets over the summer. (Yeah, I did to count; it was bugging me.)
So why isn't Prairie Spruce giving away… well…  prairie spruce.
One reason we don't give away prairie spruce trees is that prairie spruce trees don't exist. (I googled it, and quit looking after page 10). We picked the name, Prairie Spruce, based on our location, values, and beliefs. You can learn more about our choice here.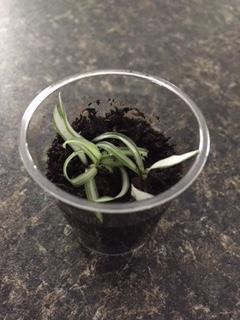 Spider plants are much easier to grow than spruce trees. (I googled that too.)
Spider plants are one of the top plants for indoor air-purification. According to NASA, spider plants are very good at removing formaldehyde.  Here is a link to the original NASA report, "Indoor Landscape Plants for Indoor Pollution Abatement".
So if you would like to learn some more about cohousing, and get a free, air-purifying, spider plant, come visit us at the Regina Farmers' Market. We are planning to be there
Saturday, June 30 from 9 a.m. to 1 p.m.
Thursday, July 26 for a Market Under the Stars, 5 p.m. to 10 p.m.
Wednesday, August 21, 9 a.m. to 1 p.m.
All dates are weather permitting.
Joanne
*To be 100% truthful (and in case my sister reads this), I have an issue with wood ticks which dates back to a vivid memory of my first embedded wood tick. In pre-internet times, no one really knew how to remove a wood tick. "Pour gasoline on it.", they said. "No, put a match to it." Lucky for me, my parents didn't follow that advice, especially in that order. My first trip to Emergency was traumatizing at age 6. Wood ticks are not bugs in my world; they are the Devil's spawn.