After a long haul of working, waiting, and yes worrying Prairie Spruce Commons is about to start construction. We now know and are ready to tell the world that construction will start in March 2016!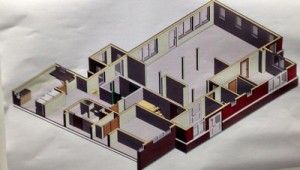 This breakthrough came on Summer Solstice weekend. The longest day of the year and a time of abundant growth and energy and not only in the plant world! There is a Quaker saying … Proceed as the way opens. While we are not a Quaker community we borrow from wisdom where we find it.  Bill Brent in his book Sacred Compass writes.  "To proceed as way opens means to wait for guidance, to avoid hasty judgment or action, to wait for future circumstances to help solve a problem."
Cohousing is about building community and a building where we will live our lives in a beautifully designed house with private units (which include private kitchens … the most often asked question) and in the common house and garden. Way is opening for Prairie Spruce Commons to start construction… and so we are happy to send this invitation and announcement far and wide …
Purchase your unit in Regina's first cohousing project, Prairie Spruce Commons.
●    Buy your unit before August 20, 2015.
●    A unit bought is a unit built.
●    Construction starts March 2016.
Join us now!
Ruth