Right at the moment, there are twenty-nine people actively involved in Prairie Spruce Commons Cohousing.   To add to the significance of the number twenty-nine, Lois retired from her long-time career on February 29.  We never miss a reason to celebrate.  At our general meeting that evening, cohousing members presented Lois with flowers and wine.  Joanne contributed a carrot cake with lime icing.  According to her, the cake was one of the best she has ever made, and we agree that it was delicious!
Perhaps February 29 can become the first official holiday at Prairie Spruce.  On the other hand, new members will give us even more reasons to celebrate.  There is no doubt that we will have many February 29th celebrations in the future, but those festivities won't just happen during leap years!
Here is Joanne's recipe for you to try.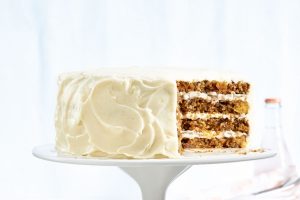 This recipe is from Canadian Living – one of my most trusted sources for recipes.
The Ultimate Layered Carrot Cake
Ingredients
2 cups (500 mL) all-purpose flour
2 tsp (10 mL) baking powder
2 tsp (10 mL) cinnamon
1 tsp (5 mL) baking soda
3/4 tsp (4 mL) salt
1/2 tsp (2 mL) nutmeg
3 eggs
3/4 cup (175 mL) granulated sugar
3/4 cup (175 mL) packed brown sugar
3/4 cup (175 mL) vegetable oil
1 tsp (5 mL) vanilla
2 cups (500 mL) grated carrots, (about 2 large)
1 can (398 mL) crushed pineapple, drained
1/2 cup (125 mL) chopped pecans
Preparation
In large bowl, whisk together flour, baking powder, cinnamon, baking soda, salt and nutmeg. In separate bowl, beat together eggs, granulated sugar, brown sugar, oil and vanilla until smooth; stir into flour mixture just until moistened. Stir in carrots, pineapple and pecans until combined. Scrape into 2 greased and floured 8-inch (1.2 L) round cake pans.
Bake in 350 F (180 C) oven until cake tester inserted in centres comes out clean, 35 to 38 minutes. Let cool in pans on rack. (Make- ahead: Cover with plastic wrap and store at room temperature for up to 2 days or overwrap with heavy-duty foil and freeze for up to 2 weeks; thaw before continuing with recipe.)
Ann