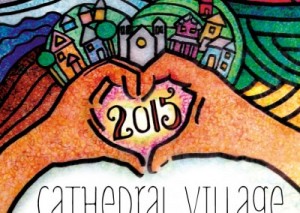 For many people the Cathedral Arts Festival is the beginning of summer in Regina. Held over the week of May 18 to 23 this year, there are concerts, picnics, a parade, and a huge street fair on Saturday. Prairie Spruce made its first appearance at the Cathedral Street Fair last year, and we are back again for a return engagement.
Some of you were fortunate enough to partake of delicious free slushies that were provided by Nature's Best and powered by Prairie Spruce. All the slushies were blended on the 100% person powered blender bike. Made from nothing but pure fruit juice and ice, they were probably the tastiest and healthiest drink to be found anywhere on 13th Avenue that day. Lois was caught on film demonstrating the blender bike and modeling her beautiful and functional balloon flower head band.
This year the blender bike returns. Erik will be manning the bike for most of the day. This tall, dark, and handsome  young lad will be sure to attract lots of attention to the Prairie Spruce booth. (I'm his mom; I'm allowed to say that!).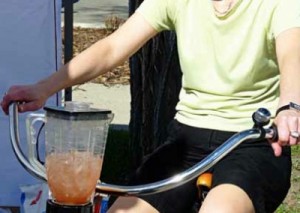 Both Henning and Dave have been practicing their balloon twisting skills in the off season. Henning assures me he has the worm, the snake, and the hot dog down pat. I haven't had an update from Dave lately. I can promise flowers, swords and dogs.
Looking forward to seeing you as part of the Street Fair on Saturday May 23!
Joanne