Sunday July 23rd was a lazy, hot, Saskatchewan Summer day. The brilliant blue sky had hardly a hint of cloud to impede the bright yellow sun bathing the cities and countryside alike in its warm glow.
This was the day twenty-two members of the Prairie Spruce Commons cohousing community took a brief hiatus from the mildly oppressive heat in Regina and headed out to the inviting micro-climate of Katepwa Lake, and Dave and Lill's lake cottage. Everyone was in a celebratory mood and the time was right for a festive summer social.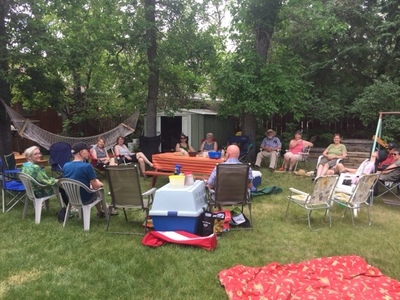 Folks started to arrive via carpools around 2:00 p.m. They unpacked their potluck food and refreshments, ice coolers and chairs, and of course "Conan the Beagle", and arranged themselves in friendly visiting fashion under the shade of nearby Ash and Maple trees.
Once everyone had arrived we took a brief time out for Lill's "tour". It started with the inside of the cottage where Dave could be heard saying "please move all the way in folks, away from the door, so everyone can get in", just like in a "real" organized tour. Then it was on to the lake shore, the boat dock, and an assortment of water craft laid out for the visitors to use, and of course more trees.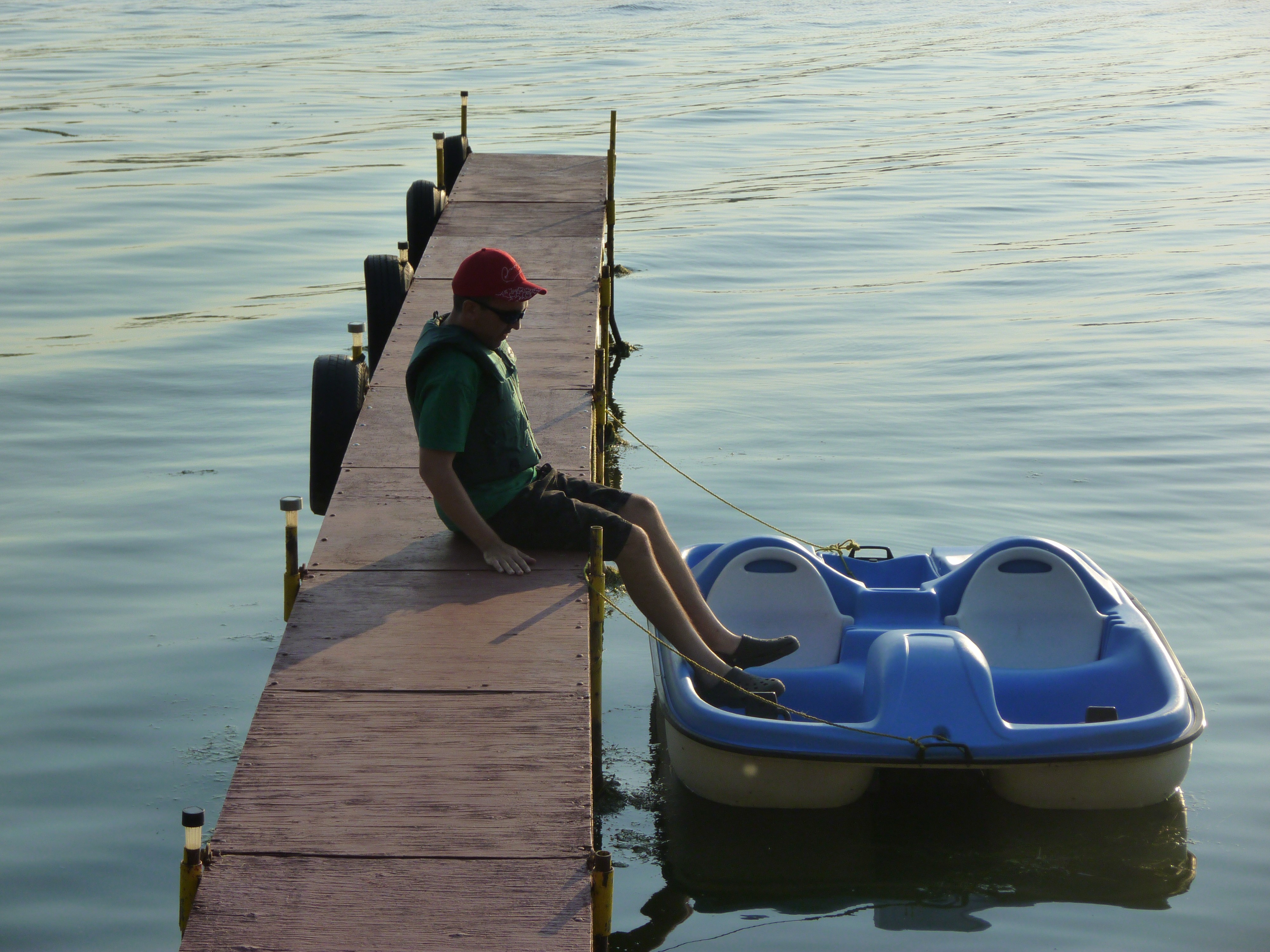 After that everyone chose their favourite leisure activity, whether lying in the hammock, sitting and visiting, walking the dog, lying on a blanket, or using the paddle boat, and wiled away the afternoon. The snack table and beverage station were near at hand and kept well stocked but it wasn't long before tummies started growling.
So, we fired up the barbeques (Murray had brought an extra one to provide added grill space) and it wasn't long before everyone's preferred form of protein was grilled to perfection. The splendid array of colorful gourmet potluck salads and desserts covered an entire picnic table. Then in typical cohousing fashion everyone settled in for the common meal and more socializing. Coincidently July 23rd was Dave and Lill's wedding anniversary and the community honoured them with a song and a special cake for dessert. There was even time for a cake cutting "photo op".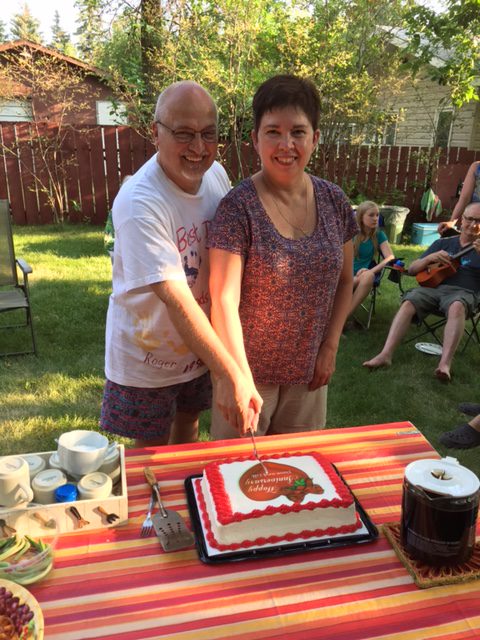 By 8:00 p.m. supper lethargy was wearing off and some folks started thinking about the return trip to Regina. As efficiently as they arrived they swept up their belongings, packed them into vehicles, collected their passengers and headed for home. A few people stayed to watch the beautiful sunset across the lake. It was the perfect finale to a wonderful time spent with cohousing family and friends.