Here is part one of a two-part series on community by Ann.
Community Defined
Community is a popular word in society today.  Many of the meanings attributed to the term apply to Prairie Spruce Commons Cohousing and its interpretation of community.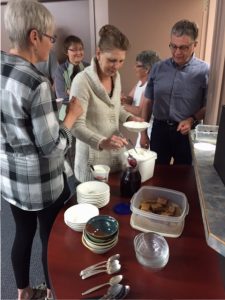 The Prairie Spruce community describes a group of people with shared goals, attitudes, and interests.  A self-organized network, this group has a common agenda and is committed to working collaboratively.  Diverse individual characteristics contribute to the strength of the group and enrich the attachment among the members.
Upon completion of the structure on Badham Boulevard in 2017, the community will live together – a neighbourhood within a building, a part of the larger community of Canterbury Park.

Community Now
After working together for the past five years, the members of Prairie Spruce Commons have already formed a strong sense of community.  The shared purpose of coming together to design and build the property on Badham Boulevard is an obvious starting point.   Sharing the workload among standing and ad hoc committees is essential.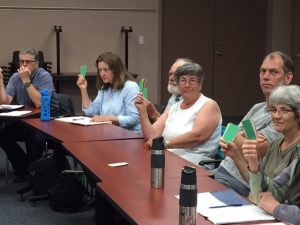 Collaborative decision-making ensures that each member of every household has an opportunity to express an opinion, to voice a concern, or to contribute a suggestion.   Lively discussion leads to informed choices and strong commitments.  Formed by an awareness of each personality and an appreciation of the individual, enduring friendships are made.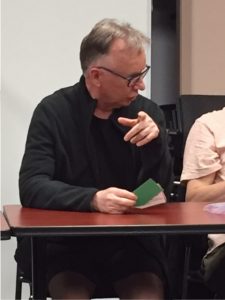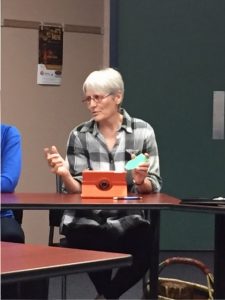 While achieving results in this enormous project has been hard work, the work has been filled with humour and fun.  In anticipation of the meals that will be prepared and eaten in the common house after move-in, the group has been eating a meal together once a month since the early days of the project.  The need to downsize has resulted in joint garage sales – more shared work, more shared fun – with the proceeds going towards the purchase of equipment for the common kitchen.  Birthdays, graduations, retirements, sickness among community members or the loss of a family member have been reasons to celebrate or commiserate as a group.  The Prairie Spruce community has been established.