About 20 years ago, when I was a new bride, my mother-in-law Eva saw me peeling store bought potatoes. She promised to bring me in some potatoes from the farm the next time she came to town. Having grown up on a farm with the obligatory giant farm garden, I was none too fond of store bought potatoes and was happy at the prospect of real potatoes.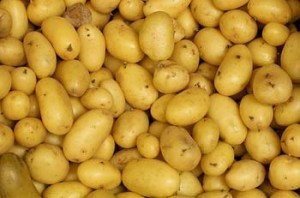 As promised, Eva showed up a few days later with a 5 gallon pail of potatoes. I was wondering if they would be red potatoes (best for making perogies) or white potatoes (best for baked potatoes). It never crossed my mind, that there were any other kinds of potatoes. Apparently there are; she had brought me a pail of Bintje potatoes.
They look delightful, don't they. What you don't know is that the size you are seeing them right now is pretty close to real size. The big ones are about the size of you thumb. I kept a smile plastered on my face as I thought these were the potatoes we left in the garden in the fall because they were toooooooo small. Keep smiling… I am not peeling those things. Keep smiling… maybe I can bake them or something. Keep smiling…what am I going to do with 5 gallons of teeny tiny potatoes.
I soon discovered that the absolute best way to eat Bintje potatoes is at Eva's house. She boils them with the peels on and Knud peels them while they are still super hot. The potatoes are then put in a bowl, covered with a potato doily (yes, they have one – don't you?) and put into the bed under the feather quilt until the rest of supper is ready.
I have become a Bintje potato purist as I don't bother with butter or gravy, I just eat them plain. Sometimes I even skip dessert and just have more potatoes. Well, on the off chance someone in the family reads this, I guess I should correct that. I eat dessert and then eat more potatoes.
If you ask Eva, I'm sure she would make them for you at our next community shared meal. If you ask Knud, he might even tell you the story of how those potatoes got to Canada. These types of stories are of course best told in community, and around a table filled with great food. Let us know if you'd like to be part of our next community meal.
Joanne