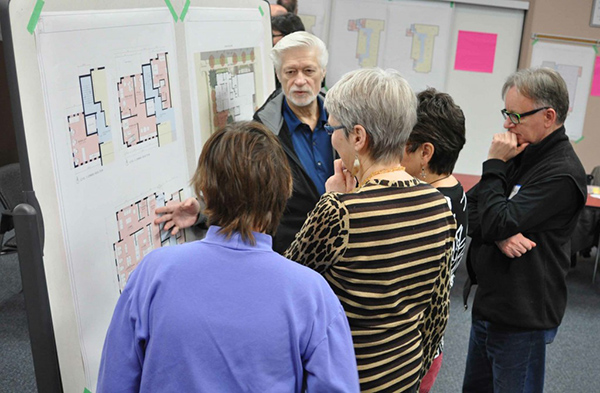 In March and April 2015 Prairie Spruce Commons members met with Chris Kailing, our architect from Pattison MGM, to consider final adjustments to our building design. It was once again magical to watch Chris move rooms and spaces. Here's just one example of how Chris used feedback from the community to improve our design.
Chris used the layout of one of the one-bedroom plus den units as a base then applied transparent overlays to sketch out the revised concept for the two-bedroom units. In essence he removed the hallway area near the bedrooms in the original design and leveraged the found space into a larger kitchen area, more closet space and a second full bath, instead of the half bath. That put a bedroom on each side of the unit, with the kitchen and living area in the middle of the unit.
The existing two-bedroom unit holders, and the entire community, are extremely pleased with the new design and the design process as a whole. A word of encouragement for any would-be two-bedroom buyers: there is only one two-bedroom unit still available to purchase, so act quickly!
With the success of our past Design Workshops with Pattison MGM, the Prairie Spruce community is also very much looking forward to the next Design Workshop scheduled for June 20. At this workshop, our architects will be reviewing progress to date on the construction drawings, presenting 3D images of the building interiors, as well as initiating discussion about common house and private unit finishes (for example, millwork and cabinetry).
Are you considering joining the community or getting an in-depth look at the building design? This is the perfect opportunity for getting all your critical questions answered while also getting to know your future neighbours. If the workshop is of interest, get in touch and we'll fill you in on the workshop details.
Dave