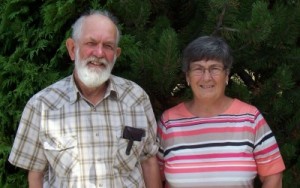 Eva and Knud took a huge step on their cohousing journey when they sold their farm last month. They have lived on a farm between Balgonie and Edenwold for the last thirty years. Knud always dreamed of having a farm, and, since the mid-eighties, he has lived his dream. He grew oats, barley, peas, flax, and safflower as well as a huge vegetable garden. Eva turned the bleak open prairie into a delightful floral oasis with roses, lilies, lupine, and other perennials. There was an inner back garden, a gazebo, a rock garden, an orchard, and lawns. The farm was known as Knud and Eva's Paradise.
But Paradise had acres and acres of lawns and lots and lots of flower beds. It became clear in the last five years that maintaining the farmyard was getting to be too much work for Eva and Knud.  To keep it looking good, they had to spend hours weeding flower beds and vegetable gardens. Eva wore out at least three riding lawnmowers in the past ten years. Erik, their grandson, helped out a bit, but they ended up hiring help for the last couple of years.
When their son Henning showed them the plans for Prairie Spruce, it didn't take long for a decision to be made. It was time to sell the farm and move into a community that already seemed like family. It was the right decision. Their unit is on the first floor, right next to the garden.
Welcome to your new Paradise, Eva and Knud.