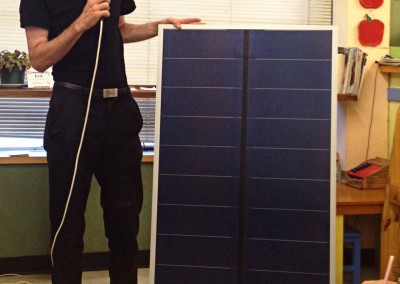 Prairie Spruce Commons is committed to reducing our environmental footprint. Part of this commitment includes designing our building to use complementary power sources like solar power, but what does this really mean? Thanks to an information session with Ken Compton, local solar and wind energy expert, we are gaining more of an understanding of our options.
Life Beyond Bigfoot : Solar & Net-Metering
It is our intention to build so we are ready for future installation of solar voltaic panels. The panels have a 25 year life expectancy (production > 80%). We intend to produce power under Saskpower's net-metering program.
Suncatcher Solar provides the following information about solar power output in Saskatchewan:
The amount of electricity you can produce depends on the size of the solar array and the amount of sunshine you receive in your area. For example, a solar power system with a 4.8 kW array (20 solar panels @ 240 Watts each) will produce an average of about 700 kWh per month in central Saskatchewan, Canada.  You can find out how much electricity you need by looking at your current power bills.
Why we will use complementary power sources:

Reducing our cost of living: S ask Power has applied for an annual rate increase of 5% for the next two years.
When possible, generating power for sale:  The Sask Power Net Metering Program makes this possible.
Reducing our CO2 production and elevating our province's energy status: Saskatchewan generates almost 75% of our electricity from coal fired electric plants and is currently Canada's worst polluter per capita.