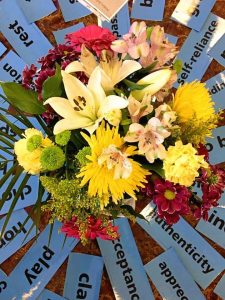 Have you watched Ellen DeGeneres play Heads Up! on her show Ellen? It is a fun game where you hold a word on your forehead and others give you clues to help you discover the word. On the Ellen show the words are often the names of movies or movie stars. When the Prairie Spruce Commons Cohousing community played Heads Up!, the words we used were feelings or needs (feelings examples: tender, warm, relieved, surprised, hopeless, irate, proud, and needs examples: safety, choice, belonging, participation). There were outbursts of laughter as we played together. It was a creative and fun way to expand our conscious communication literacy. At Prairie Spruce Commons we are investing in our future by learning the skills of conscious communication with the support of Jodi Woollam
It is not easy to begin to pay attention to and alter the ways we communicate. We can feel anxious, uncomfortable, and awkward. These are feelings most of us want to avoid, but doing it in a playful way makes it easier. Any time you try something new, like building a bird house or learning to cook or taking up a new sport, there is a period where it is unfamiliar, but approaching it as play really helps lighten the experience. On a recent episode of The Nature of Things, David Suzuki met with people around the world who are exploring the nature and role of play in animals. They are learning that play is essential in social bonding. At Prairie Spruce Commons we are also learning how play is contributing to our social bonding.
To learn more about conscious communication click here
To learn more about Prairie Spruce Commons Cohousing click here
We currently have seven units available at Prairie Spruce Commons, 1625 Badham Boulevard, Regina.
The show suite is open Saturday and Sunday from 2 pm – 4 pm or to book a time please phone Dave at 306-586-1363 or e-mail us at prairiesprucecommons@gmail.com
Brenda