Dave here with a report from our Grand Opening last weekend! I'm pleased to say that the Grand Opening of the Information Center was a great success in terms of
attendance and media coverage and well as being a fun event for the community.
We decorated light standards near the Information Center and Eva brought Canada flags which we stuck in the nearby snow banks. There was a bit of a wind so the flags on the building plus the flags in the snowbanks caught everyone's attention. Ruth brought a fire pot and firewood which proved to be a great focal point for folks gathered out of doors and contributed to creating the "crowd effect" we were looking for. The ribbon for the ribbon cutting ceremony was prominently draped across the sign with the rendering of our building. Malin came on her bicycle with her young daughter Nora in tow. Once we made a few technical adjustments for the ribbon cutting and following a brief celebratory speech, the ribbon was cut by little Nora and the enthusiastic crowd roared its approval.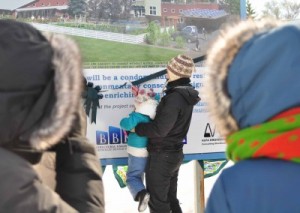 All of the Prairie Spruce community members except for a few who were out of town on that day attended the event alternating between the comfy interior of the Information Center, with its hot apple cider and yummy cookies, and the warm glow of the fire outside in the fire pot. Ward from Pattison MGM was there to mix and mingle and add to the fun. Knud's friends and former co-workers, Dale and Susan, came for a visit and to find out more about our community. Another new face, a young lady named Lindsay was excited to learn as much as she could about our project. And familiar friend of Prairie Spruce, Maureen also popped in to show her support.
We were greatly encouraged to see Heather Polischuk from the Leader Post and Wayne Mantyka from CTV representing the media. Heather interviewed Dave and Erik and captured a bit of video in the Information Center. Wayne interviewed Henning and Lois on camera as well. The resulting media reports in the paper and on the television were very positive and will greatly serve to promote our community among the general public. Henning later reported that visits to our website increased from a daily average of 20 visits to a high of 140 visits following the media coverage!
Overall it was a cool day weather wise but the warmth of our community shone through. It was another great Prairie Spruce Commons event!
Dave