I used to make 7 or 8 different things for Christmas. Now I only make 2 – perogies and caramel pretzel sticks. I have already made perogies with Prairie Spruce members. If Lois and Murray help me another 4 times AND are willing to keep the recipe a secret, I might divulge my formula for super silky perogy dough.
Luckily I have no such attachment to my caramel pretzel stick recipe. I found it in a Taste of Home recipe book. Before Christmas, I spent a very long day and made about 85 caramel pretzels. With the big kitchen in the common area, and some willing cohousers, we could make hundreds in one day to share.
Caramel Pretzel Sticks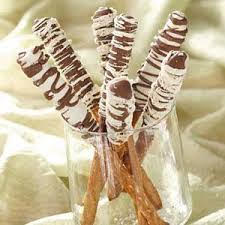 2 cups sugar
1 cup corn syrup
1 cup butter cubed
1 can (14 oz) sweetened condensed milk
1 package (10 oz) pretzel rods (Try Sobeys or Bulk Barn)
6 to 12 oz white candy coating
6 to 12 oz milk chocolate candy coating
3/4 finely chopped walnuts – optional
In a large heavy saucepan combine sugar, butter, and corn syrup. Bring to boil over medium heat, stirring constantly. Continue boiling, without stirring, at a moderate-steady rate for 4 minutes. Remove from heat and then stir in the milk.
Reduce to medium-low; cook and stir until candy thermometer reads 245 (firm ball stage). Keep warm. I find this steps takes a long time as I use low heat so the caramel doesn't burn. I then put it in my slow cooker to keep warm. 
Pour 2 cups of the caramel mixture into a 2 cup glass measuring cup. (I wedge my slow cooker into a larger pot at an angle.) Quickly dip each pretzel halfway into caramel. Allow excess to drip off. Place on well buttered baking sheets; let sit until hardened. I use parchment paper.
In the microwave, melt the white candy coating; stir until smooth. Dip half of the caramel pretzels in the coating. Repeat with milk chocolate coating and dip the rest. Voila!
Joanne