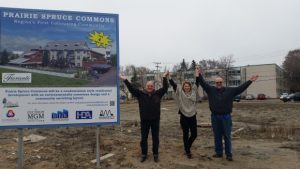 Dave Lareau can see the home of his dreams taking shape. And by design, it wasn't something he envisioned alone.
Lareau is part of a group of people working on Prairie Spruce Commons, Regina's first co-housing community.
"People were looking for a better living arrangement, both for themselves and for family members," Lareau told CBC's Morning Edition.
The co-housing project started after a number of families who knew of each other attended a visioning workshop by a local community-based organization.
"There were a good number of people there, and we talked about dreams for ourselves and for family," he said. "Not knowing what co-housing was, we just kind of came out of the blue and talked about things that mattered to us. And luckily for us, one of the facilitators was familiar with the concept of co-housing."
Lareau said there were some important aspects all the community members shared when it came to desired living: "A feeling of belonging. A sense of security. Kind of a small town feel."
The vision behind Prairie Spruce Commons
The idea is to extend the group's philosophy on community involvement into their living arrangements.
"Co-housing typically has a common house," Lareau said. "It may be a stand-alone building or it may be fully integrated right into the residence. In our case, we have an apartment style — it will be a condominium when it's all said and done."
'We tend to want to live more responsibly, use up fewer resources, consume less energy.'– Dave Lareau
At Prairie Spruce Commons, there will be a shared space, a common kitchen and dining room if people want to share meals, as well as a playing areas for kids, a lounge and a workshop.
"You don't have to [share meals], each unit is self-contained, but there's that potential to share and gather," he said. "Culturally, people do some of their best work when they're sharing a meal."
Another key element that brought the people involved together was the desire to leave a smaller footprint through living in smaller accommodations.
"A lot of our people, they want to tread lightly on the earth and they recognize that although here in Saskatchewan we have lots of land, that doesn't mean we should squander it. So we tend to want to live more responsibly, use up fewer resources, consume less energy."
Lareau said another way they're able to reduce the size of the building is by creating guest suites, rather than giving every unit an extra bedroom. If people have family or friends visiting, all they have to do is book the guest room ahead of time.
A home for young and old
Unlike the Wolf Willow co-housing development in Saskatoon, Prairie Spruce Commons is not a seniors' residence
"From the get-go, we said we'd like ours to be intergenerational — not that there is anything wrong with the seniors model," Lareau said. "Our goal is to mix the generations, feeling that there's value in seniors and young children and middle-age people."
"I think people are missing the connectedness of those old communities, the small towns."– Dave Lareau
For Lareau, this co-housing project represents an evolution back to living in close-knit communities. But they're also aware of potential concerns over being too close to their neighbours.
"I think people are missing the connectedness of those old communities, the small towns," he said. "Nobody wants the busy body, in your face, poking their nose in your business. But people do want the support that they can provide to each other, and know your name and a little bit about your circumstances… You care about people."
The plan originally called for 27 units, but it has now been changed to 21 units, 14 of which are already sold.
"It is scaled down," Lareau said. "We just thought a lot of people jump in on vision and diagrams and whatever, and other people want to see construction happening. So we thought we've got to get going on this and make it happen."
Lareau said he hopes to break ground on the property by June.
Thank you CBC for your coverage.