I married into a Danish family. My in-laws and husband were all born in Denmark. Despite living in Canada for 40 years, they still maintain many Danish traditions. Most of my favorites involve food.  I have been introduced to smørrebrød – open faced sandwiches that must be eaten with a knife and fork. I have come to love herring and the occasional shot of aquavit. There is always risalamande (rice pudding with almonds) at Christmas.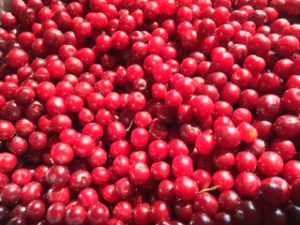 It is usually topped with cherry pie filling, but last year it was topped with homemade cherry preserves. It was amazing. Tart cherry goodness mixed with creamy rice sweetness, this was something that I had to learn how to make.
Making cherry preserves is not that easy. It takes a lot of work to pick and pit the cherries. So I asked the other members of Prairie Spruce to give us a hand. Not only did we get Prairie Spruce members out, we even got some friends of cohousing out to pick. There were seven of us picking cherries.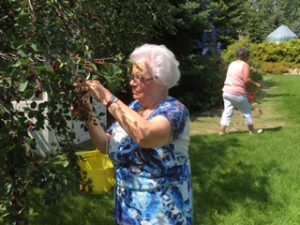 Ann told us about picking cherries at boarding school in England. She said they were let into the fenced in an orchard and not allowed out until all the cherries were picked.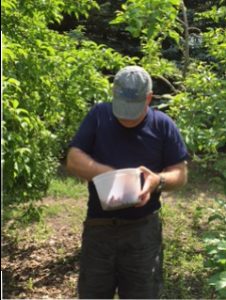 Henning was a bit slower than Ann as his pail didn't have a handle.  I don't think he had quite as much experience picking berries either.
It didn't take long for the cherry trees to be stripped bare.  Then we moved onto the other berries that needed to be picked. Murray and James picked a gallon or two of saskatoons and Knud picked raspberries.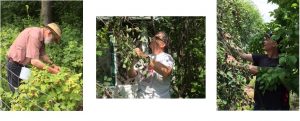 The afternoon ended with tea and ice cream with fresh raspberries for all. Murray took home the saskatoons, hopefully, to make one of his famous fruit crisps. Eva had two huge bowls of cherries, ready to be pitted. I helped pit, but she was so much faster with her hairpin.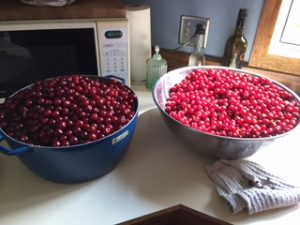 Sharing is one of the core values of Prairie Spruce Commons.
We share the workload.
We share what we grow, create, build and brew.
We share the fun.