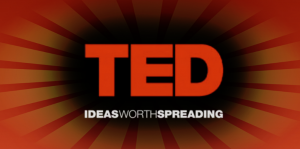 The very first TED conference was held in 1984 as a single event to show off compact discs, e-books, and 3D graphics.  It lost money. Now there are 17 TED page views on the internet every second. If you have never heard of TED talks, where have you been? They are amazing 15 to 20-minute videos on just about anything to do with technology, entertainment,  and design. There is even one on cohousing.
So from small beginnings, great things can happen. Prairie Spruce Commons held their first Canada Day Party on July 1.  It was small, very last minute, and involved a lot of hey.
Hey, Henning, we should go watch the fireworks tonight.
Hey, Henning, we should watch it from Badham Ave, just to see what it is like.
Hey, Henning, we should invite Murray and Lois.
Hey, Henning, we should put this on Wiggio and invite everyone.
Hey, everybody, I have a very patient husband.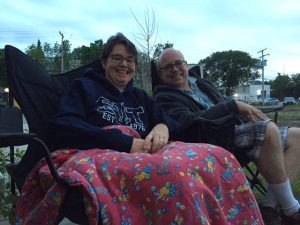 So Murray, Lois, Henning and I went to our soon-to-be home, set up lawn chairs beside College Park II, and waited, and waited, and waited. I wasn't sure about how much traffic there might be, so we met at 9 pm.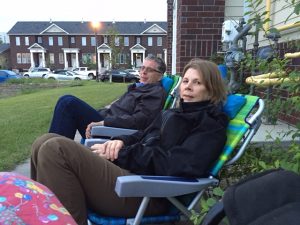 While we waited, we discussed the next Canada Day celebration.  There needs to be food, perhaps a BBQ. There should be music, maybe even a live band. We could have a house concert –  once we have a house. There should be more people, more Prairie Spruce members and maybe some neighbours too.
The fireworks were awesome, (but someone forgot how to set her camera to shoot fireworks so the pictures were not awesome.) We were joined by some workers from College Park II.  We could see everything and imagined how much more fun it will be when we are all watching the fireworks from one of our three terraces or even from Lois's third-floor apartment.
See you next year at the Second Annual Prairie Spruce Commons Canada Day Celebration!
Joanne