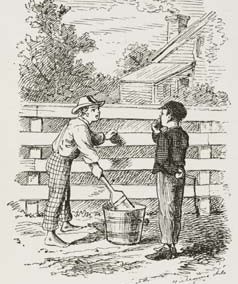 Everyone knows the story of Tom Sawyer, a clever young boy who convinces his friends to do his work for him. It is a work of fiction, but the story it seems has inspired many…
About two weeks ago, Murray announced that he was going to cook a turkey for a birthday dinner our community would host while Chris, one of our project managers, was going to be in town. Our Prairie Spruce community rallied behind Murray's idea and other members quickly offered to make something for the meal. I offered to make extra stuffing. Henning offered to bring perogies. Salads and desserts were volunteered. The Gagnons were going to make some delicious homemade cranberry sauce.
In the lead into the dinner prep, Murray mentioned it would be good to have some help so our host Lois stepped up to help cook the potatoes and Dave volunteered to come early to carve the turkey.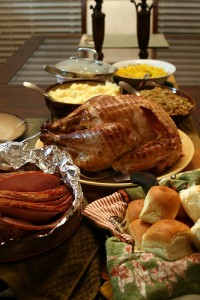 As with any prairie potluck, there was food in abundance. Jean and Faye brought a spinach salad with strawberries, avocados and poppy seeds. Henning brought perogies whose silky smooth dough and delicious filling drove even those who normally are gluten free or vegetarians to try a couple. Joyce treated us to two types of custard and someone made the best apple crisp I have ever had. Warren offered up cheesecake. Several bottles of wine appeared out of assorted bags and boxes.
Suzanne arrived with a large pan. It was topped with golden brown crumbs and was filled with a smooth, creamy-looking concoction. Hmm, I wondered what it was, some type of delightful potato casserole? Perhaps another dessert? A new vegetarian dish for me to sample? It smelled wonderful. I asked her what it was. Turnip Fluff was her answer. Oh…
I have spent my entire life hating turnips. My mom would boil them to a nasty, pale orange mush and force us to "just try a little." To this day, some 30 years later, my mom still wants me to "just try a little" of her boiled turnips. As an adult, I can just smile, say "no thanks" and pass them to my dad who really likes them. My dad is English –  you can draw your own conclusions from that.
But life is about trying new things, so I tried "just a little" of Suzanne's Turnip Fluff. It was delicious. It was fluffy. It was wonderful. I experienced a personal epiphany – turnips are not nasty; they are really quite good. I went back for seconds – a much bigger helping this time. (I wonder what she can do with Brussel sprouts – my second least favorite vegetable?)
When it was time for cleanup in the kitchen, Murray had to retire to the living room to attend the marketing meeting. Fortunately, Ruth came to the rescue. She offered to clean up while the rest of us attended the meeting.
We teased Murray, our "Tom Sawyer of the North", quite a bit that night about his turkey dinner. But the reality is, we were all Tom Sawyers that night. By splitting up the work, delegating cooking and cleaning, we all benefitted in a way that could only have been possible through group effort. Only one of us had to make the cranberry sauce, only one of us had to bring the turnip fluff and only one of us had to do the dishes. But we ALL had fun. We all got to enjoy the meal and enjoy each others company.
I'm looking forward to Murray's next party. 🙂
Joanne